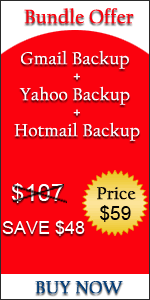 Gmail Export Tool With Unique Qualities
Download Data (E-Mails, Contacts, Documents, Calendars) From User Account To Local Machine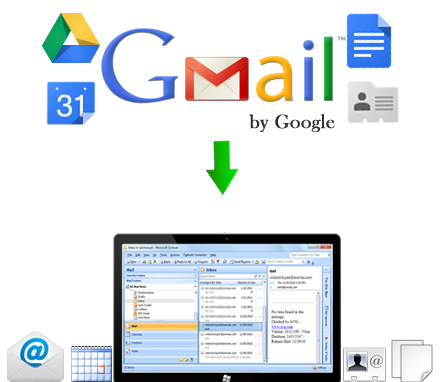 Gmail Export Tool helps you in creating a backup of your Gmail data such as; E-Mails, contacts, documents, and calendars. Your data which is present in cloud server can be saved to your local disk using Gmail Backup software.

Click Here To Watch the Video...

Click Here To Know How To Create Backup of Gmail
Try It Free

Version: 4.1
Buy Now

Price: $19
E-mail services which are web-based such as Gmail, Yahoo Mail, etc are in high demand for their superfine features, as you can access them anywhere you want and they are perfect medium for communication and secure as well. The comfort and ease of checking your emails in a browser might compel you to choose web-based interface instead of using a desktop email client. Gmail for instance, provides you efficient search capabilities and conversation threading and that is why users opt for Gmail. But question which matters for user is does Gmail service create any local backup of your emails? Answer is "No".
Necessity Of Gmail Backup on Local Machine
Gmail will not provide any local backup of your emails the way desktop client provide it. For that purpose you will need some extra efforts to have a backup. Gmail Backup utility is one of the best options for getting backup of Gmail emails data in your system local hard disk.
Not Connected to Internet: If you want to access some data files which were saved in attachments in an email and now you want it right away! But you don't have internet connection at that moment and don't have any copy of that data file saved in your system in that situation also Gmail backup created by Gmail Export Tool can help you effectively.
Bug in Gmail system program: In case of a sudden outage or any fault in system program of Gmail service, like the one happened that led to a disastrous deletion of overall 40,000 Gmail accounts. However all the data was recovered by Gmail later, it is better to be prepared for situation like this. So it becomes necessary to have our updated Gmail backup.
Special Features of Gmail Backup Creation Tool
Every user use Gmail in day to day life, so this Gmail Backup software helps a wide range of users:
Software gives backup in various file formats:
E-Mails: Gmail Backup software gives backup in the file format of PST, MBOX, and EML.
Contacts: Contacts are saved in vCard.
Documents: Documents can be saved according to their original file formats in the file form they were attached such as; DOCX file, XLSX file, PPTX, PDF, etc.
If user wants to delete the data from Server after creating its backup for better security, our Gmail Export Tool software provides an option of "Delete after download". Email will be deleted after creating backup.