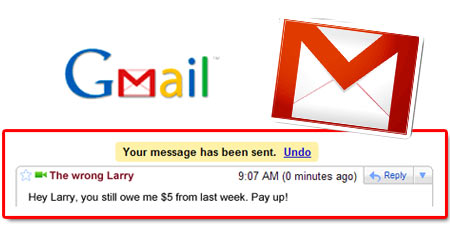 Who would have thought the necessity of undoing a sent email until a developer named, Yuzo F. introduced it to the world through Gmail. Now instead of feeling disappointed and thinking of a way to escape the consequences of a mail sent to an unwanted recipient or sent at the wrong time; here is what you should know for avoiding the situation anytime in future.
There have been innumerous encounters where users have shattered with disappointment of sending a message to the wrong recipient. Technology is only as rigid as your preferences, and Gmail gives you the chance to make it flexible accordingly by letting you discover how to undo a sent email in Gmail within a few clicks!
10 Seconds Of Rescue – Gmail Undo Feature
Although, the feature is of excessive importance, it still is buried beneath a tab that wouldn't easily attract a generic set of people. A tab named "Lab" would only fascinate the tech enthusiasts and nor the herd of people out there waiting out on the creation of one such feature. It's your 10 seconds of rescue plan because the option by default only lasts on screen for 10 seconds after the mail has been sent. So hurry your decision!
Recently, coming across the situation myself made me realize how important this feature is and how deprived a large number of users are of it. The upcoming segment of this blog discusses about the step by step procedure of implementing email undo feature in Gmail.
Moves To Dodge The Embarrassment
Importance of this feature is valued differently by different set of users depending upon their situation. However, here is delivering the easiest steps to know how to undo a sent email in Gmail to ward off the embarrassment.
Once logged into your Gmail profile, click on the gear button to choose Settings.


When you get the complete view of all the tabs in the Settings page, click on Lab.


Though it's not only a useful feature but an interesting one too, you will have to struggle scrolling to the end of the page to finally get it. Once you are through it all, you will see the "Undo Send" by Yuzo F. Enable the Undo Send feature for your profile. And, scrolling down a little more will let you implement the changes by clicking on "Save Changes".


And this is how to undo a sent email in Gmail in future. Soon after applying the changes, you can also test the feature and will be amazed to see it working just the way you wanted it to.


NOTE: The option to undo a sent email will only last for 10 seconds by default after the email has been sent. Either go for it or face the consequences!
Workaround: You can save yourself from taking an instant decision by changing 10 seconds duration of decision making to 30 seconds to undo a sent email. Just go to the Settings page and on the General Tab choose the desired time duration for send cancelation from "Undo Send" drop down list; illustrated below.