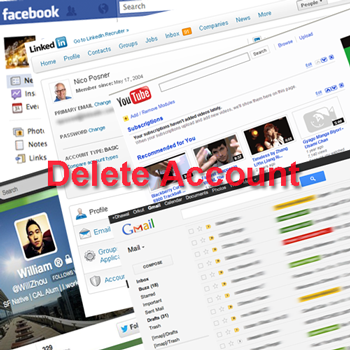 If you are either bored or spending too much of your precious time on social networking sites as a result of which you want to depart from them; then certainly you would be wanting to know as how to delete Gmail, Facebook, Twitter, Google+, YouTube or LinkedIn account, whichever you are obsessed with.
It is rather not easy to take such a decision because in today's era of 21st century we have been captured by them to an extent that we find our lives impossible without their existence. Moreover when we opt to delete our accounts such sites blackmail users with emotional pop ups, even our friends who are connected to us through social networks don't want us to bid good bye to these sites. Also it is not easy to find the location as to from where to delete the account or the steps that should be adopted to get rid of them.
But leaving those things apart, if we are strong enough and have really made up our mind to do so, nothing can stop us from fulfilling our needs and requirements. So if you are one of the users who no longer wants to these sites, this blog of mine would definitely help you out as it describes the way as how to delete Gmail, Facebook, Twitter, Google+, YouTube or LinkedIn account; those which have almost hijacked your lives.
Want to Get Rid of Gmail? Learn How!
Google has dominated the market since long and has about million account holders, which is still counting and Gmail is one of its most demanded services. But now if you are all set to move to any other email service or want to delete its one account that you no longer want to use and opt for new Gmail id, then you can proceed with the steps marked below:
Go for Google accounts page and log in to your account
Here you will find three links as mentioned below:
• The first to remove Gmail without deleting Google account
• Second, to remove Google Books and
• Third to close Google account as well as delete all its services



Accordingly, depending on need any one of them can be selected but the first link should be clicked upon to remove Gmail account. Now when you click the link a warning message comes up that warns you of your account getting deleted.

Thereafter a confirmation page for deletion of the Gmail account appears where you are required to follow the steps written below as well as it shown in the image also.
• Click the checkbox that says "Yes I would like to delete"
• Enter a new primary email id that you will use for other Google services
• Enter your Gmail password in the dialogue box and click, remove Gmail

Note – The above stated steps will assist you to delete the Gmail account. Just to reiterate Google's warning, there's no coming back from this step by clicking 'Cancel' and you will definitely get rid of the Gmail forever.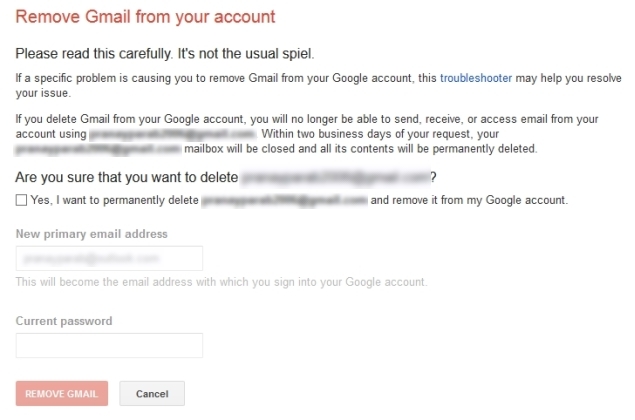 Note: Last but not the least, I would like to add a suggestion; that exactly fits in the situation when you want to delete your Gmail account but have access to all the emails, contacts, calendars and documents from the account. In such cases I advise you to make use of a tool named Gmail Backup before actually deleting your Gmail account. This is application software that quickly backup one and even multiple Gmail accounts as well as saves backed up data in most popular file formats such as PST, EML, MSG and MBOX.
Want to Say Good Bye To Facebook? Go For These Steps!
Doubtless to say that Facebook has been the hot favorites since its launch for everyone, it has lured not the youngsters only but people of all ages have been addicted to it. But for sure addictions of anything is not just bad but worsen than the worst. So if you no longer want to stay stuck with it you can delete your account certainly.
But one thing that comes in the way of deleting it is that Facebook makes it very difficult to delete user account. Finding out the option to delete account permanently just by looking through the settings is quite difficult. To find the exact page, you can either opt for its 'help center' or even follow these steps.
Note – If you're not sure whether you want to permanently remove your account you can deactivate it for some time. This lets you rejoin within 30 days without losing any data.
To do that, go to security settings page of the social site
Then click 'Deactivate your account'. This link is hidden beneath "When you're logged in" and you are in no way likely to see it unless you are actually looking for it.
The dominant social site now tries to emotionally blackmail you so that you set back and reverse your decision. If you ignore the photos of the people who "will miss you", you can select any reason out there and click 'Confirm'.
Note – If you are undeterred and re-choose to delete your account permanently as the foretold saying 'Where there is a will there is a way', go to "Account deletion page" and click 'Delete My Account' as shown in the screen shot below.
Here, you will see a pop-up that prompts to enter your password and characters shown in an image i.e. Captcha. Click Okay and then click on Okay once again in a second pop-up to remove account on a permanent basis.
Note Facebook Furnishes Return Option Once Again
Once more Facebook gives a chance to change your mind and that is why if you log in anytime in the next two weeks, your account will be reactivated.

Want To Do Away with Twitter? Head for It!
The other social networking site is Twitter which has attracted people from all walks of life and affected people's social life. But the fact is that pros and cons are associated with everything and so is the case with Twitter. So, if you want to stay away from the constant stream of tweets and re-tweets on this website, follow these steps to get rid of your account:
Go to settings in the Twitter account and scroll down to the bottom
Then click 'Deactivate my account' which is a link below the 'Save Changes' tab
• On doing this Twitter will send a warning message about what this means.
But obviously if you're sure about deleting account, then click on the 'Deactivate' button which will serve the purpose.
Note – Twitter Furnishes Return Option One More
If you change your mind and choose to return to the social site once again without losing previous account and its data, you will have to log in within 30 days period, after which the particular account will be deleted permanently.

Want To Bid Farewell To Google+ & YouTube? Pace Ahead!
If you have accidentally signed up for Google+ from your Gmail account but don't want to use it, then there is nothing to worry about. This is because it is extremely easy to delete your Google+ profile but it can have some unwanted consequences if you want to carry on with YouTube and Google Play store. This is because Google has integrated all its three services i.e. Google+, YouTube and Google Play store together.
Let me familiarize you with two of the most adverse outcomes and they are mentioned in the section below.
Firstly, your YouTube account will also get removed which in turn will delete all YouTube comments. Moreover if you have a channel it will get disabled too.
Secondly, you will not be able to give reviews on Google Play store.
Knowing all the adverse results, if you still want to proceed then follow these steps:
Go to Google+ Downgrade page and sign in with your Google account
Then scroll down to the bottom and click the check-box next to "Required: Yes I understand that..."
Now, click 'Remove selected services.' This will delete Google+ as well as your YouTube accounts.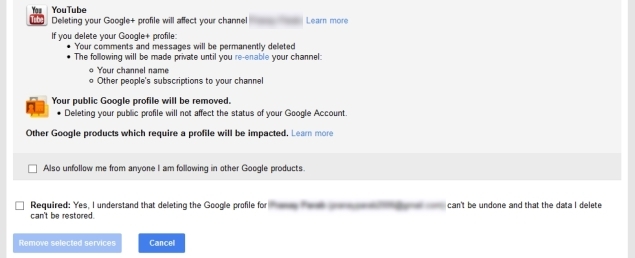 Want To Delete Your Professional LinkedIn Account? Step Forward!
Using LinkedIn, a business-oriented social networking service which is mainly used for professional work can sometimes be annoying with its regular notification emails and updates that land in your inbox. Fortunately they've made it fairly simple to delete your account. Here's how you can do that:
Sign in and open LinkedIn's Privacy & Settings page
Click the Account tab which is next to the shield icon, near the bottom-left of the page
Under the Helpful Links section, select 'Close your account' and it's done
Proceeding towards the end, I hope that this blog of mine will surely assist you in closing accounts on various websites. As I have tried my level best to tell you the steps to delete Gmail, Facebook, Twitter, Google+, YouTube or LinkedIn account and ease your lives.