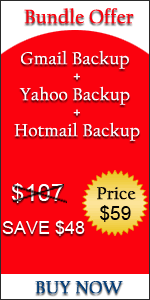 Gmail to MSG – Backup Gmail Emails Into MSG File Format
Publish Date: January 16, 2014 By: Maria Watson Posted in: Backup, Gmail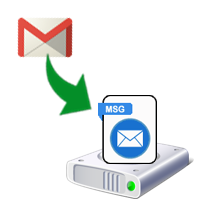 Those users who are looking for solution to backup their Gmail account emails data into MSG (Outlook) file formats are stop worrying now. As Gmail Backup software is introduced with advanced features including facility of backup emails data stored in Gmail account into MSG file format with the help of Gmail to MSG conversion tool.
Gmail to MSG email conversion software helps user to create backup data of single as well as multiple users of Gmail into multiple file formats. The main motive of creating backup of Gmail account data is to avoid misusage of confidential email data by hackers. The online data is not safe because Google reads all user emails data and after analyzing all personal needs of users via emails data it displays paid advertisement related to it on user's profile.
Try It Free

Buy Now

Attributes of Tool to Create Gmail to MSG Backup Includes
Support Backup of Single User as well as Multiple Users Gmail Account

:

Users who want to backup single or multiple Gmail account emails data can easily create and save them into MSG, PST, MBOX, EML file format by providing user name and password details to software interface.

Add Time Interval for Downloading Selective Emails Backup

:

Gmail to MSG backup tool will provide option to export defined data emails data to create backup. Users can just define the dates for which they want to download emails.

Delete After Download Option for Clearing Emails data from Account

:

Once the users have selected the emails data to create backup they can easily choose delete after download option for deleting emails data saved on Gmail account for safety purpose.

Internal Bandwidth and Throttle Setting for Requirement

:

The Gmail to MSG conversion software also facilitates user to set internet bandwidth option in order for less or more internet usage in terms of KBPS or MBPS as per requirement.

Pause and Resume Setting for Uninterrupted Downloading

:

The software is introduced with new and advance features which includes pause and resume option for those users who have low internet connectivity or want to stop backup process in between for any purpose.
Other Additional Facilities of Software Includes