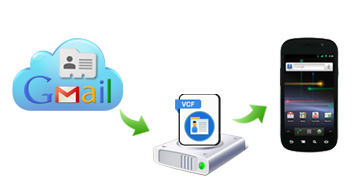 The IT giant Google offers many services of which Gmail is one of the chief components and plays a vital role by providing web email service. Including transmission, reception and storage of emails, the other categories of information stored are contacts, calendars, documents, etc. But due to the advancement of technology these days' mobile phones are more preferred for almost everything; be it mailing service, storing contact information, etc.
Of all the stuffs, contacts is one of the most highly demanded, as it forms the basis of all communication that takes place. Hence, migration has become a trend these days. Therefore, related to the same situation, one of the most demanded things of today's time as how to export Google contacts to Android phone via VCF is discussed in the article.
Try It Free

Buy Now

Why Export Contacts Via vCard (VCF)?
vCard (VCF) is one of the most popular file types in use today for storage of contact information and bears different versions. The reason being, that it is supported by almost all mobile devices with various fields in it. Also known as electronic business card, it proves highly advantageous because the same vCard can be accessed in Android including Samsung, iPhone and Blackberry phones. It contains name, address information (home and official), mobile numbers, e-mail addresses (personal, official), Uniform Resource Locators, logos, audio clips, photographs, etc. These several fields no doubt provide detailed information about an individual, groups, offices, etc. Moreover, vCard is simple to transfer from one device to another as it can be easily imported.
Ways it can be transferred – VCF is a standard file format for vCard that can be transported in multiple ways. Some of them are mentioned below:
As attachments to emails.
On the World Wide Web i.e. Internet.
Instant messaging system.
Through movable, portable USB devices.
Why Are Android Phones Preferred?
There are number of issues that are the reasons for the exportation of Gmail contacts into Android mobiles. Some are due to advantages that the Android offers while the others due to disadvantages of Google contacts. Few factors are described as below:
Multipurpose Android – Being a multipurpose modern day mobile phone, a lot of people are adopting it due to its highly advanced features. Any piece of work that can be performed on PCs, Androids too can be utilized to serve all of them.
Gmail Server downtime issues – It's a usual issue that can occur any time. This leads to inaccessibility of the emails, contacts and all other information. This is not the case with Android mobile operating system which is based on Linux kernel.
Gmail is a web based mailing service – Due to the reason that Gmail is a service based on web, dependency on Internet for access to all info including contacts, is a major setback as connection to the Internet may not be available all the time.
Remarks - It is due to the above described reasons that might be the cause to export Google contacts to Android phone via VCF format. But the query arises how it is possible!
Steadfast Tool to Transport Contacts from Gmail to vCard
For transfer of Google contacts into Android the best method is to make use of an external utility but the problem is which one to chose. The dilemma is due to the reason that there are many similar applications available in the market. But the one that can be really be used is Gmail Backup. This is because it offers many other facilities such as it provides smooth and reliable Contacts backup in VCF format, which can further be imported in Android Address Book without any hassle.
Simple Guide on How to export Google Contacts to VCF
Step 1: Download and install software on your computer & then launch it. After this, enter username & password of Gmail account and click on Login button.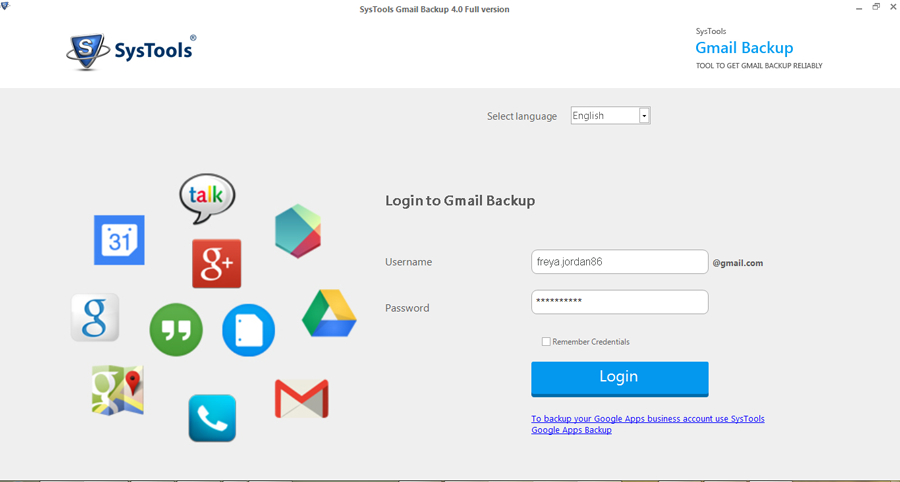 Step 2: After successfully login, then,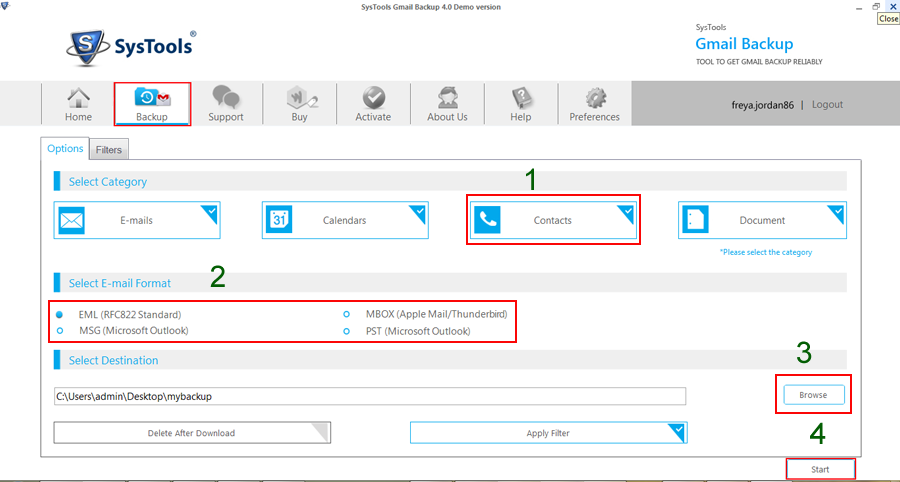 Select Contacts Category
Select one Email Format (EML, MBOX, MSG or PST)
Click Browse to select destination location
Click on Start button to begin the backup process
Step 3: View the status of Gmail backup process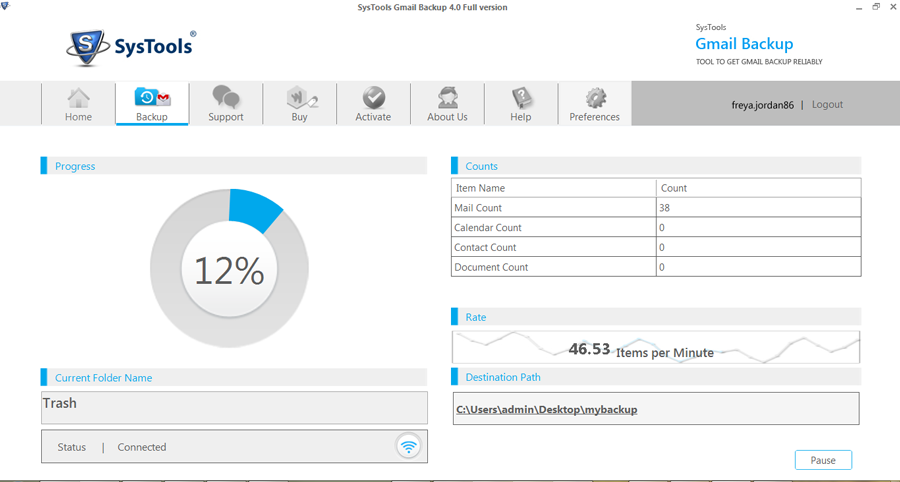 Step 4: Once process is completed, then you get a message "download completed successfully", then click OK.