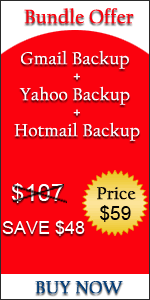 How to Backup Google Gmail To Hard Drive For Security
Publish Date: September 26, 2013 By: Maria Watson Posted in: Backup, Gmail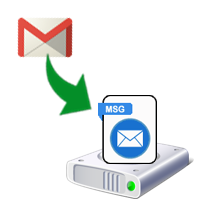 Backup Google Gmail to hard drive/local PC computer/local drive will become a need for the users who are working in a government sector. To control the cyber snooping in the government sector and to protect the critical data, it is predicted that govt. may ban the use of the email services for communication like Gmail. If the predicted situation come into existence, then how will users protect their crucial data as because Gmail is not only used for sending or receiving emails it is used to store emails, calendar, contacts and documents. To overcome such situation and to preserve the important information like contacts, emails and documents, etc; users must create backup Google Gmail to hard drive with our organization developed Gmail Backup program.
Try It Free

Buy Now

With the named application users can take backup of the entire Gmail account without losing even single property. Backend of the program is developed with the technical algorithm so that users can swiftly, effectively and efficiently take back-up.
It is always suggested to create backup Google Gmail to hard drive as to protect the data from the losses. Consider a situation, suppose you have created a backup of your Gmail account but suddenly due to abrupt power supply system gets shutdown and now you need to reboot the system. In such situation user might lose their data preserved in the system with the backup file. To overcome such situation users must take smooth back-up and save it in the external drive.
Try Out Extraordinary Featured Application: Gmail Backup Tool
Backup Google Gmail to hard drive as well as Maintain folder hierarchy after taking backup
Backed up data stored in a different folder
Security maintained, as to create a backup user must log in and get a backup of the database
Verification test is conducted
Create date based backup and delete the Gmail account database
Save Emails data in EML, PST and MBOX file folder
Save calendar and contacts in ICS and VCF file format respectively.
Save documents in original format