Features of Gmail Backup Tool
Important Features of Software to Make Backup of Gmail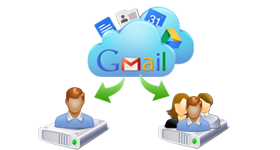 Single User Backup
Select Single User Backup option offered by the software which in order to enter login details of an individual Gmail user (username & password) and will proceed for back up all items of Gmail account.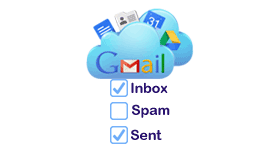 Selective Email Folder Backup
The software provides the option to select email folders like inbox, Sent Mail, Drafts, Chats, Personal Folders, etc., from Gmail user account. This can be done by simply checking/un-checking folder which you want to backup.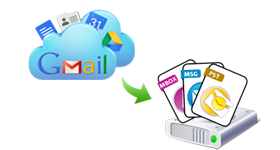 Multiple Email Conversion
The software specializes in safeguarding emails of Gmail in four different ways. User can either convert mailbox email like Inbox, Sent Mail Items, Chats, Drafts, Trash, etc.to PST, EML, MBOX or MSG format & access mails on the desired application.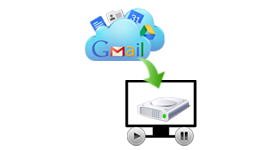 Pause/Resume Downloading
With Pause & Resume Option, you can pause the backup processing even if network problem or other problem sometimes. Later, you can resume the backup processing when network connection is come.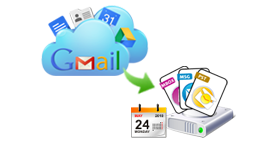 Apply Filters
There are 2 options:
1. Select Folders: User can enable/disable folders in which user want to email backup.
2. Time Interval: This option in order to take back up of Gmail items within specific date (from start_date & to end_date).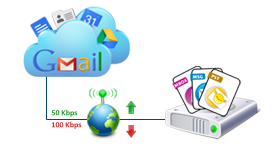 Manage Internet Bandwidth
In Throttle setting option, you can manage the internet bandwidth (IW) usage for your system either in kbps & provide the value of BW. Time slot setting to take speed of download within specific time & Throttling define % of specified IW should be used.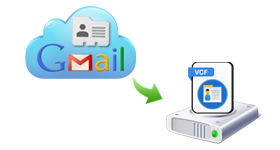 Backup Google Contacts to VCF
For saving the crucial contacts of Gmail, the tool provides the most flexible option. Users can convert contacts to VCF format owing to which users also facilitated to access them in a variety of mail clients, mobile applications, OS & other application.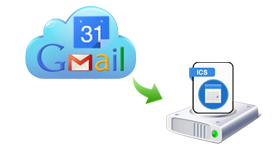 Backup Google Calendar to ICS
With the facility in the software for backup creation of Gmail to convert contacts to iCalendar (ICS), users can share the meeting schedules, updates of upcoming events of business etc through internet.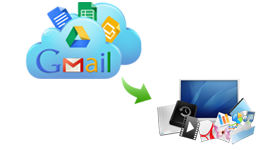 Backup Google Drive
Export all files like Spreadsheet, PDF, Plain Text, Image, Documents, etc from Google Drive Recent folder to local drive in their original format For ex: Documents will get saved as DOCX, Spreadsheet as XLSX, etc.
Top 4 Reasons Why Backup Gmail
Gmail can be accessed using Phone; you too might be using it with all ids and password info stored in it. What if this personal Phone gets stolen? What if it reaches to "Wrong hands" and all your Gmail data purposely get deleted by them? Since you don't have any backup of your Gmail data, you have high risk of losing all messages data permanently.


Accidental deletion is another reason; users often accidentally delete emails mistakenly and realize it later when those messages are removed from "Trash" too. Well, Google will not retrieve these emails to your account and there is no other means of getting those emails back. Don't you think that it is better to take more precautions and backup your Gmail data prior this mishap?


You lost your password and the phone number you fed while creating account to get the SMS with pin code has been lost or does not exist with you anymore. Well Gmail will surely try to recover your password, but since you will not receive the Pin code you will not be able to fetch back it in urgent needs and lose access to your emails and other details when you needed them urgently.


Most disastrous mishap is when an external virus or system bug completely eradicates your Gmail account data completely from server itself. This has happened before when plenty of users lost all their email data due to sudden Outage in Gmail. However, Gmail retrieved back all deleted data but you cannot test your luck every time. Be wise to backup Gmail account data in your hard disk to avoid such situations.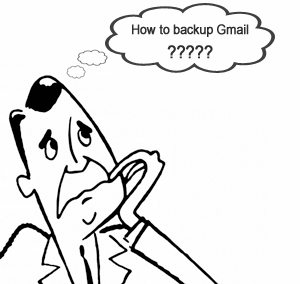 How to Backup Gmail?
If you want to know how to backup Gmail, then we give easy-to-use Gmail backup. With help of this tool, you can create backup of all the emails labels/folders (Inbox, Starred, Sent Mail, Personal, etc.), residing in your Gmail account in PST, MSG (Outlook), MBOX (MAC Mail, Thunderbird, Entourage, etc), & EML (Windows Live Mail, Outlook Express, etc) file format.
It not only backs up the emails, but also deals with the backup creation of Contacts, Calendars & Documents associated with your Gmail account in appropriate file formats. You can also backup the Gmail data of multiple users by feeding CSV file with necessary details of IDs and Passwords.
Watch Live Video of Software
Gmail Backup tool's working process can be viewed live now. This video provides you a step-by-step processing of how to backup messages from Gmail account to hard disk drive, and guide you at every step. You can even "Pause" the video to understand the step and then "Resume" for next step. Or if you have any confusion about previous step, go back to that potion and view it again. This video has been provided for users' ease so that they can access tool without any technical guidance.
Minimum System Requirements

Windows OS Support
Windows 8 (32 or 64 bit), Windows 7 (32 or 64 bit), Vista, XP, 2003, 2000

Min. Hardware Requirements
Processor: 1 GHz Processor
Memory: 512 MB
Hard Disk: 16 MB of Free Space

Support MS Outlook Version:
Outlook 2013 (32 bits), 2010 (32 bits), 2007, 2003, 2002, 2000

Software Pre-Requirements
»IMAP should be enabled on Gmail account
»User account should not have 2-Steps Verification
Check Out Trial Edition of the Tool before Purchasing

Get Free Trial of Tool
Testing of the software can be done with its free demo version. It will backup 100 email & 25 other (contacts, calendar & document) items and will give experience of working with software. For unlimited conversion purchase full version of tool.
Try It Free

Version: 4.1

Purchase Full Edition of Tool
To export entire emails, contacts, documents, calendars of single backup account or multiple users Gmail account in your hard disk; you can purchase the licensed edition of software. For more queries you can contact our Technical Support Team.
Buy Now

Price: $19
Customer Reviews


I was worried of losing Gmail data when I read news of Gmail Outage. But then I got this Gmail Backup tool which efficiently backed up all the Gmail data including email & contacts, without any data loss. Thanks for such an impeccable tool.

- Carlisle, USA


I was trying to search for a wholesome tool, & tried this tool it helped me taking backup of other details like Contacts, Calendar, Document along with emails. I am highly impressed with the interface as it is simple and guided me well.

- Fred, Ireland

Frequently Asked Questions
Can I backup data from domain IDs other than "@gmail.com"?
No, Gmail Backup software is only meant to take back up of data from "@gmail.com" domain and none other.
Is it possible to recover deleted emails from Gmail account?
No, you cannot recover emails or any other data lost from your Gmail account using Gmail Backup tool. But you can back up the available data to your local machine.
What if the internet got disconnected during Gmail data download?
In case your internet connection gets disconnected, the download process will automatically stop. But, you can resume it from where it stopped, once the internet connectivity is gained. Gmail backup tool comes with a Pause and Resume facility with which you can also voluntarily "Pause" the data download and "Resume" it later on as per your convenience.
How to import PST to Outlook after taking backup of Gmail in PST format?
To import PST files into Outlook you can use Import and Export option under Outlook File Menu. For a complete step by step procedure, go to:

Can I backup multiple Gmail Accounts at a time?
Yes, you can backup Multiple Gmail accounts at a time with Gmail backup software. Use Import to CSV option and upload a Comma Separated Value file having the Email ID and Password for the Gmail accounts from which you want to backup data.
How to merge multiple PST files in single PST?
Multiple PST files are created when you backup multiple Gmail account into PST where a PST for each account is created. You can get our PST Merge software to combine the data of all the PST files into one PST file.
Is it possible to convert the entire .eml/.mbox/.msg files in PST file?
Backed up data in the formats of EML, MBOX, & MSG file formats can be converted into PST file using our converter applications i.e.; EML to PST Converter, MBOX Converter, and MSG to PST Converter respectively.
What to do, if I don't have any application for opening .pst/.eml/.mbox/.msg file?
Backup created in PST, MSG, EML, and MBOX file formats can be opened and viewed using our freeware standalone viewer applications. PST Viewer, MSG Viewer, EML Viewer, and MBOX Viewer are the freeware tools you can use to view respective file formats without the need of having supported email clients.
I have lost my Gmail account password. Can I recover it using Gmail backup software?
No, you cannot recover an account password using Gmail Backup; the tool is only meant for taking backup of Gmail account data.
Why Choose Gmail Backup

Money Back Guarantee

Trusted by Millions

Secure Transactions

24X7 Live Support